INDIVIDUAL COACHING - REVITALISE TO SHINE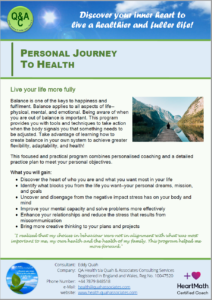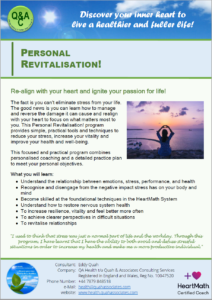 Personal Journey to Health
Personal Revitalisation!
Voyage to Heart Intelligence
Personal Journey to Health
Live your life more fully 
Balance is one of the keys to happiness and fulfilment. Balance applies to all aspects of life — physical, mental, and emotional. Being aware of when you are out of balance is important. This program provides you with tools and techniques to take action when the body signals you that something needs to be adjusted. Take advantage of learning how to create balance in your own system to achieve greater flexibility, adaptability, and health!
This focused and practical program combines personalised coaching and a detailed practice plan to meet your personal objectives.
What you will gain:
Discover the heart of who you are and what you want most in your life
Identify what blocks you from the life you want—your personal dreams, mission, and goals
Uncover and disengage from the negative impact stress has on your body and mind
Improve your mental capacity and solve problems more effectively
Enhance your relationships and reduce the stress that results from miscommunication
Bring more creative thinking to your plans and projects
"I realised that my choices in behaviour were not in alignment with what was most important to me, my own health and the health of my family. This program helped me move forward."
Personal Revitalisation!
Voyage to Heart Intelligence
" … discover your inner heart to live a healthier and fuller life …"